MYKONOS LUXURY HOTELS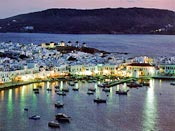 Are you the type of traveller who wants only the best accommodation while on holiday? On Mykonos Island there are some excellent hotels that are experts at pampering their guests. Lavish facilities, luxury rooms and honeymoon suites in Mykonos and the highest quality services are offered to make you vacation absolutely unforgettable.

At the Mykonos luxury hotels, guests can select the type of accommodation they prefer, ranging from rooms and suites, to posh apartments and bungalows. Most Mykonos luxury hotels include a number of special amenities in their units to make their guests feel extra comfortable. Jacuzzis tubs, toiletries, champagne and fruit are just some of the additional features that add something special to the luxury accommodation.

The hotel facilities in the Mykonos luxury hotels are especially designed to offer a carefree and relaxing stay. Swimming pools, steam rooms, Jacuzzis, and saunas, as well as gourmet restaurants and elegant bars are available. Service in the Mykonos luxury hotels is impeccable, with your every need satisfied immediately and efficiently by polite and hospitable staff.

Many luxury hotels in Mykonos Greece are located in the popular seaside resorts of the island, such a Mykonos Town, Platis Gialos, Ornos, Panormos, Tourlos and Agios Stefanos, while others Mykonos luxury hotels are situated in the peaceful villages of Agii Apostoli, Agia Sofia, Agios Sostis, Glastros and Amigdalidi. Most of them have a breathtaking view of the Aegean Sea and of the marvellous Mykonos beaches, which in most cases can be admired from the private verandas of the rooms.

Luxury hotels in Mykonos are ideal for visitors who want to relax in lavish surroundings, making the most of the total relaxation and superb service offered to them. Many of the Mykonos luxury hotels are frequented by celebrities and VIPs from all over the world, who come to Mykonos Greece to rub shoulders with people from all walks of life. Mykonos is a unique island, where whatever your style, you always fit in. With endless fun, spectacular nightlife entertainment and a fantastic upbeat atmosphere, its no wonder that Mykonos Greece is considered one of the finest holiday destinations in the world.