Oia Hotels
Oia (Ia), Santorini Island, Cyclades, Greece
The settlement of Oia (Ia), one of the most popular tourist destinations in the world, is built on a cliff on the northwestern side of Santorini Island and is most famous for its incomparable view of the Caldera, the sunset and the deep blue sea. It is also known for its traditional architecture with its many Cycladic houses, manors, quaint windmills and lovely churches. Close to the settlement are lovely sandy beaches, while across from Oia (Ia) is the volcanic isle of Thirassia. Accommodation in Oia (Ia) is plentiful, as it possesses numerous hotels, suites, rooms for rent and apartments.

4 star hotel apartments, rooms and traditional houses in Oia Santorini, fully air-conditioned with a private bathroom, a TV, a fridge, a phone and a veranda with a view of the Caldera and the sea. Guests of the Delfini Hotel can party in Fira, the capital of the island, or relax at the hotel Jacuzzi and roof garden, gazing at the stunning view. See more details of the Delfini Santorini Hotel at its website.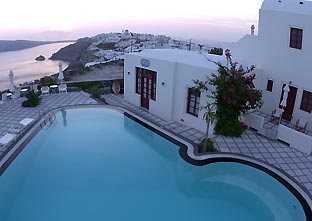 4 star hotel suites, apartments and studios in Oia Santorini with air-conditioning, a private bathroom, a kitchen, a fridge, sat TV, a phone, and a veranda or balcony which provides a magnificent sea view. The apartments, studios and suites are situated in the village of Oia, the quaint Santorinian settlement famed for its architecture. Visit the Nikos Villas Oia Santorini Apartments, Studios and Suites' website for more information.

Luxury hotel suites and studios in Oia Santorini with amazing sea views and view of the caldera. Enjoy your holidays in Santorini by living in one of the Thirea Suites or Studios. The complex is ideal for your wedding in Santorini or for your honeymoon.

Anemomilos Villas are located in picturesque Oia, Santorini. They offer total privacy, they are autonomous, and are ideal for those looking for a comfortable, relaxing accommodation experience away from the crowds, noise, and prying eyes! We˘ve created two amazing villas where you can enjoy your vacation in Santorini with friends, family, or your significant other, away from stress and noise! Anemomilos Villas may accommodate 4 or 5 persons depending on the villa selection.

Studios and apartments in Oia Santorini, fully air-conditioned with a kitchen with a mini-fridge, a TV, a phone, wi-fi internet access and a veranda or balcony with a view of the Caldera and the Aegean. The apartments and studios are situated 2 km from the beach, in the very picturesque village of Oia, which is famed for its beautiful architecture and enchanting view of the Santorini volcano. For more details, visit the website of Strogili Traditional Houses.
Accommodation : Rest of Santorini
santorini akrotiri hotels
|
santorini fira firostefani hotels
|
santorini imerovigli hotels
|
santorini kamari hotels
|
santorini oia hotels
|
perissa hotels
Accommodation : Rest of Cyclades Islands
amorgos hotels
|
andros hotels
|
antiparos hotels
|
donoussa hotels
|
ios hotels
|
kea tzia hotels
|
koufonisia hotels
|
milos hotels
|
mykonos hotels
|
naxos hotels
|
paros hotels
|
santorini hotels
|
schinoussa hotels
|
serifos hotels
|
syros hotels
|
tinos hotels
Accommodation : Rest of Greece
attica
|
chalkidiki
|
dodecanese islands
|
crete island
|
cyclades islands
|
ionian islands
|
ne aegean islands
|
peloponnese
|
saronic islands