SIGHTSEEING on ANDROS Island Greece

Palaiopoli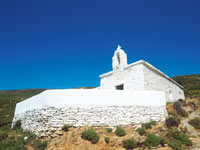 Most ancient ceramic artefacts gathered in the area date back to the Mycenaean Era, while evidence from the Geometrical Era have also been preserved.

Important excavations like the Daughter of Copenhagen, a Kouros and the group of Pigassos and Velerefontis, which date back to 6th century B.C., show that the town started to be in its big prime during the Archaic Times.

The lively center in Palaiopoli – the Agora - was near the beach in the eastern side of which was the port. Its ruins are still visible today, sunk in the sea. On the slopes outside the town walls are the cemeteries.

From the ruins, the numerous sculptures and other written sources, show that the town was extremely fortified and apart from the Agora, it featured theatres, fervors, sanctuaries and temples.