ANDROS TRAVEL INFO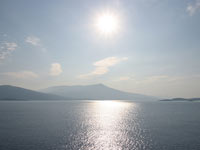 The island of Andros covers 374 sq. km (147 sq. miles). Its highest mountains are the Petalo and the Kouvara (highest peak Prof. Ilias 997 m.). There are four rivers which run across the island from west to east through fertile green valleys ideal for farming. These are the Arni River, which flows into the Bay of Levka, the Big River that flows by the beach at Paraporti (Hora), the Achla River that flows into the Achla Bay and the Double River which runs into the Sineti Bay.

Andros has a great deal to offer. It is the greenest of all the Cycladic islands. The lush vegetation includes oaks, centuries old plane trees, the cypresses, the olive, the walnut and lemon trees. Andros Greece is also famous for its numerous springs. The most famous of all is the "Sariza springs".

Sariza mineral water is best known for properties which aid kidney problems and is bottled in Sariza and distributed all over Greece. Other renowned springs of Andros are Lezina, Zenio at Kouvara, Koumoulos at Menites, Meliti and Metohi at Strapourgies, Abyssos at Levadia and Akoe and Levada at Lamyra. The villages of Andros are ideal for touring. The busiest of them are Andros Town (Hora), the capital of the island, Gavrion, Batsi, Korthio, Apoikia and Paleopolis. Andros beaches are made of fine white sand and small pebbles. Some of them are so remote that they can be accessed only by boat.

You can travel to Andros by ferry boat. You can take the ferry boat from Rafina Port, Attica and arrive at the island within two hours. The boat docks at Gavrion. Ferry boats from Thessaloniki Port depart three times a week for the Cyclades and Crete. If you bring your car along, you will have the chance to tour Andros Island, discover the natural beauty and follow your own schedule. The Meltemia (strong northerly winds of August) are responsible for the cool summers of Andros. Generally, it has a mild climate with temperate winters.

Useful Telephones
> Police Station:
Andros:
+30 22820 22300
Gavrion:
+30 22820 71220
Batsi:
+30 22820 41204
Korthi:
+30 22820 61211
Medical Center:
+30 22820 23703 or 22222
District Medical Office:
Gavrion:
+30 22820 71210
Batsi:
+30 22820 41326
Ormos:
+30 22820 61217
Information Center:
Gavrion:
+30 22820 71770
Hora:
+30 22820 25162
Taxi:
Hora:
+30 22820 22171
Gavrion:
+30 22820 71171
Batsi:
+30 22820 41081
Korthi:
+30 22820 62171
Port Police Office:
Hora:
+30 22820 22250
Gavrion:
+30 22820 71213
Batsi:
+30 22820 41081
Port Police Station:
Batsi:
+30 22820 41981
Municipality of Andros:
+30 22820 22275
Municipality of Korthi:
+30 22820 61219
Municipality of Hydrousa:
+30 22820 71250