GENERALTRAVEL INFO about ANDROS Island Greece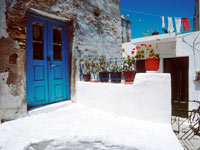 Hora, the capital of Andros Greece, is located on the east coast of the island, built on a peninsula. Hora ends on a little island where the medieval castle is built.

The Venetian castle was used to guard the town against the invading forces. The island is separated from the peninsula of Hora with a narrow sea strip 2-3m and communicates with the land by a stony bridge. Andros Town (Hora) is divided in two parts; the Old Town and the New. In the Old town, at Riva square, the imposing copper statue of the Unknown Sailor of Andros stands still despite the fierce winds of the Aegean. Saunter in the narrow, picturesque streets of Hora.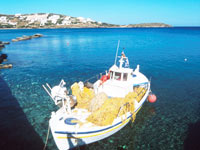 There are many shops, cafes and restaurants where you can enjoy local dishes and pastries. The Kydonieos foundation, the archaeological, naval and the two modern art museums hold excellent exhibitions which have rendered Andros Town an important cultural center in Greece.

Nimborio beach, to the left of the town and Paraporti beach to the right will give you the opportunity to enjoy the Aegean sea once more. Near Stenies, the beaches of Yialia and Piso Yialia are worth visiting.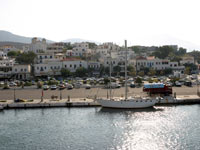 Make an excursion to Sineti, on the green sides of the mountain, northern of Hora. The picture of the stone built houses, dovecotes and watermills in the ravine with the butterflies of the "Panaxia" family, will fascinate you. On the road towards the South East part of the island, the Bay of Korthi with the blue clear waters awaits for you. Enjoy surfing in the beach of Ormos. Visit the beach of St. Catherine, and the remote idyllic creeks of Kalomonari, Boura and St. Giannis in Keramides.

The old Lady's Leap is one of the most famous Androsbeaches. The legend has it that there was an old lady living in the Upper Castle who betrayed the inhabitants to the Turks and after they were slaughtered, she committed suicide by leaping off the rock. The beach is very picturesque with its green waters and the huge rock that dominates the bay.