MUSEUMS on ANDROS Island Greece

Archeological Museum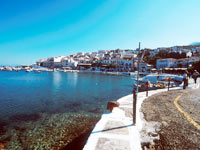 The Archaeological Museum is located in the island's capital city Chora. It was founded in 1981, a legacy of the Institution of Vasilis and Eliza Goulandris. It includes preservation's lambs, store rooms, synchronous optical-acoustic systems and security systems.

On the first floor, you can see the copy of Rigas Chartas, informing boards, 3 Mycenaean vases and objects found from the geometrical settlement of Zagora, including photographs and images of the area that show the houses and temple, to give visitors the opportunity to learn all the necessary information about Andros. On the staircase and the ground floor, sculptures and inscriptions of the Archaic, Classical, Roman, Hellenistic, Pre - Byzantine, and Post - Byzantine Times are exhibited. The statue of a naked man known as "Hermes of Andros", a Romaic copy of the 1st century B.C. of the earlier copper statue of Praxitelis which was found in 1833 in Paleopoli, is very impressive for its size.
Museum of Modern Art
It belongs to the Vasilis and Eliza Goulandris Institution as well. The museum is unique. It is composed of two wards. In the old ward, you can see a permanent exhibition of the creations by M. Tompros, Tsarouchis, Gikas, Moralis, Basiliou, Takis, Fasianos etc.

In the new ward, there is a section of the Institution's collection where exhibitions take place during all the year. The museum also holds exhibitions of painting, sculpture and photography
Naval Museum
An extensive collection of models of ships and several items relevant to the popular naval tradition of the island.