LOCAL FESTIVALS & PRODUCTS OF PAROS

Traditional Festivals & Events on Paros Island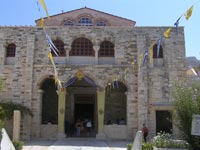 On Good Friday, the village of Marpissa hosts the Reenactment of the Passion of Christ, while on Easter Sunday, the locals and visitors gather for the Feast of Love, where traditionally roasted lamb and locally produced wine is served, accompanied by island music.

During the summer months, Paros hosts a number of festivals. In July, you can take part in the Fishermen's Festival on the first Sunday in Naoussa and the Ascension of Christ on the 9 th in Piso Livadi. On August 6 is the Transfiguration of our Saviour in Marpissa, while on the 15 th is the festival of Our Lady of the Hundred Gates in Parikia.

The Novena of the Virgin Mary and the Reenactment of the Pirate's Raid "Koursariki Nychta" takes place in Naoussa on August 23. Both Lefkes and Dryos host festivals in honor of Agios Ioannis on August 29.



Local Products of Paros
Island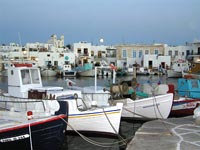 Like other Cycladic Islands, Paros offers a wide array of hand-made products. Visitors can purchase beautiful ceramic pottery and fine leather products from the small traditional workshops on the island. In Naoussa and Parikia there are many boutiques with excellent silver and gold jewelry. Paros is renowned for its cheeses, wine and vinegar and its tasty delicacies, such as chick pea balls, cheese pie, spinach pie, "karavoli" (escargot), "gouna" (sun dried mackerel on the grill) and fresh seafood.