PAROS TRAVEL INFORMATION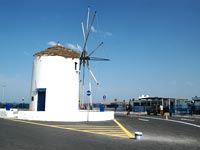 This short sightseeing and vacation guide about Paros Island will help you explore this lovely island that will remain in your hear for ever. As you approach Parikia, the Port of Paros Island, you will be greeted by a large Cycladic style windmill, magnificent traditional white-washed houses and a long seaside promenade that stretches along the beachfront of this capital town.

Parikia is a wonderful town to stroll through; taking in the island atmosphere and looking at small shops and boutiques that sell a plethora of items, from souvenirs to designer clothes. Parikia is a hospitable town with a large number of hotels, apartments, studios and rooms for rent for all types of visitors.

Paros has many significant archaeological, historical and natural sites making it a beloved sightseeing spot. In Parikia, we suggest visiting the Church of Panagia Ekatontapyliani (Our Lady of a Hundred Gates), the Archaeological and the Byzantine Museums, the Ancient Temples of Asklipios and Apollo, the Loggovardas Monastery and the Frankish Castle. It is also worthwhile visiting the Venetian Castle in Naoussa, the Ancient Marble Quarry in Marathi, the Butterfly Valley in Psychopiana, the Venetian Castle in Naoussa and taking a short boat trip to Antiparos Island to see the famous Antiparos Cave.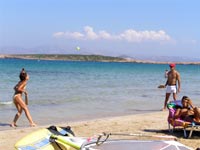 By touring Paros Island, you will be rewarded with scenes of extreme beauty, where splendid sandy and pebbly beaches meet olive grooves, vineyards and orchards that lie on rolling hills.

One of Paros' main attractions are its very picturesque mountain and seaside villages, where visitors can get a genuine "taste" of the traditions and the everyday life of the inhabitants of the island. All Paros villages offer guests a variety of hotel accommodations, entertainment venues and shops.

Paros beaches are some of the finest on the Aegean Sea. Many of the beaches on Paros Island have been awarded the blue flag for their cleanliness, beauty and organization, and therefore provide visitors with idyllic spots for relaxation and recreation.