PAROS BEACHES & RECREATION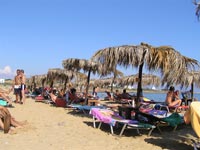 Paros is the ideal holiday getaway for water sports enthusiasts, especially those who enjoy windsurfing.

The meltemi, the strong Aegean summer wind, provides the perfect conditions for windsurfing, kite surfing and sailing in quite a few beaches of Paros. On Paros Beaches, visitors will find a wide selection of water sports facilities and services, such as schools, windsurfing equipment shops and water sports rental stands. Paros Beaches are easily accessible and, depending on the location, they provide a variety of conditions, satisfying all levels of windsurfers, from beginners to advanced and champion windsurfers.

The most popular Paros windsurfing beaches are those of Chryssi Akti and Nea Chryssi Akti. The long sandy beach of Chryssi Akti, one of the most beautiful beaches on the island, is especially suitable for learning how to windsurf. There are two windsurfing clubs, where you can enquire about lessons. Near the beach there are many restaurants, bars and cafes for your entertainment.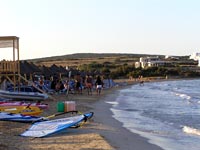 The spectacular beach of Nea Chryssi Akti is also very well organized with many windsurfing clubs and schools. The PWA (Professional Windsurfers Association) World Cup, the only professional race in Greece, is held on Nea Chryssi Akti Beach in early August. The ideal conditions of Nea Chryssi Akti Beach in regard to windsurfing standards and the quality of organization and services, have established it as one of the top three official PWA sites in the world.

Other superb Paros beaches are located along the coast of Paros Greece. Most are organized with umbrellas and chaise longues, as well as dining venues and hotels.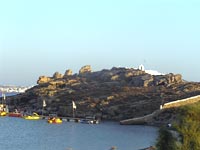 On the western side of the island are the beaches of Agia Irini, Krios, Livadia, Marchello and Parasporos. Along the eastern coast of Paros, you can swim at the beaches of Ambelas, Drios, Logaras, Molos, Piso Livadi and Punta.



The popular beaches of Paros are Kolimbithres, Lageri, Monastiri and Santa Maria, located on the northern side of Paros, while for quieter spots, we recommend going to the Paros beaches of Aliki and Faraggas. Lageri Beach caters mainly to nudists.

On Punta Beach in Paros Greece you can visit the large complex of swimming pools, beach bars, cafes, restaurants and shops, where music is blasting, people are dancing and the fun never ends.

The spectacular WaterPark near Kolimbithres Beach is comprised of huge waterslides, restaurants, bars, spacious sun decks with chaise longues and umbrellas and offers fun for all the family.