Milos Beaches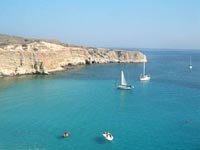 The 60 Milos beaches of the island are
truly magnificent
, full of unbelievable colors and shapes, caves, rocks, white sand. No matter how demanding visitors we are, many of them will overwhelm us.
Sarakiniko
beach is probably the star of all beaches in Milos, Greece.
The moment you reach Sarakiniko beach, you face an outstanding moonscape with whitewashed rocks and azure waters. Next to the archeological site of Filakoti , at the village Apollonia, three consecutive caves are known as the Papafraga cave. You can reach it by boat and except for the caves with the blue-green waters and the beach formed by the huge white rocks , we are also impressed by the volume of Glaronisia that stand across.
The rocks standing on these volcanic islands are nothing but large mineral glasses up to 30 meters high. The
Papafraga cave is an ideal spot
for swimming, with crystal-clear waters and golden sand.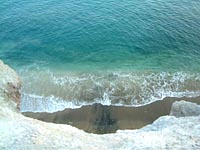 The particular feature of this beach is that at a certain depth below the sea the water is drinkable! Daily itineraries with fish-boats take you to a tour around the island and give you the opportunity to swim in unapproachable Milos beaches and shores.
The most impressive place is
"Kleftiko"
, also known as
"The Meteors of the Sea"
with the giant unequally shaped white rocks that form sea caves which you will have the opportunity to explore.
Sikia
, or the
"Emerald Cave"
is a magnificent cave a part of the ceiling of which has collapsed giving way to the sun rays and creating a unique spectacle of different colors.
At the north part of Milos Island , during your trip, you will also come across the impressive "Arkoudes", large volcanic rocks forming the shape of bears and welcoming the ships entering the island.