SERIFOS VILLAGES

While in Serifos, we recommend spending a few days to explore the wonderful Serifos villages. Throughout the island, you will be greeted by warm hospitable locals, who are always eager to tell visitors about the history and sites in their village.

Serifos Town (Chora), Serifos Island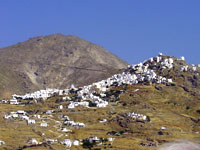 Serifos Town (otherwise known as Chora), the capital of Serifos Island, is a very picturesque settlement located on a hill, above the main port of the island, offering a spectacular view of the Aegean Sea and the island countryside. Its small whitewashed houses and windmills are scattered on the rock, creating a wonderful contrast in color.

Serifos Town is the perfect place for an stroll, wandering through the narrow alleyways, admiring the Cycladic and neoclassical architecture. While visiting the Serifos Town, we suggest stopping at the Venetian Castle ruins, the marble-paved square of Agios Athanasios, the renovated windmills, the many post-Byzantine churches and the Archaeological and Folklore Museums.

Livadi, Serifos Island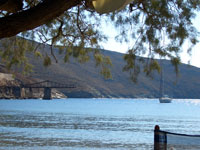 Livadi is the most popular tourist resort in Serifos and is an up and coming hotspot of the Cyclades. It is the main port of the island, situated on the southeastern side, below Serifos Town, the capital of Serifos. The town is well-known for its natural beauty and quaint architecture, with white cubic-shaped houses built amphitheatrically up the hill. Livadi offers visitors a wide selection of nightlife and dining venues, as well as an abundance of hotels, studios, apartments and rooms for rent. There are several beautiful beaches in and around Livadi, where visitors can spend relaxing moments under the warm Aegean sun.

Panagia, Serifos Island
Panagia village is a beautiful mountainside settlement located at the center of Serifos Island. The village was built around the Byzantine Monastic Complex of the Virgin Mary. Its Cycladic features and village charm makes it a special place to visit. From Panagia there is a superb view of the island.

Galani, Serifos Island
Galani is another picturesque mountain village, resting inland in northern Serifos. The settlement is built on various levels, offering visitors a splendid view of the surrounding area. The village got its name from the Ancient Galanite Mines that existed in the area.

Kentarchos, Serifos Island
The village of Kentarchos is built on a verdant slope, above Kentar c hos Bay, on the northeastern side of Serifos. It is considered one of the most charming Serifos villages, as it is full of whitewashed houses and narrow streets, and offers a spellbinding view of the Aegean Sea. Kentarchos Beach is especially beautiful, with azure waters and lined with tamarisk trees.

Megalo Livadi, Serifos Island
Megalo Livadi is a very lovely village located on the southwestern side of Serifos Island, on Megalo Livadi Bay. Visitors can see a mining ladder, built in 1932 and used in the iron mining in the area, and several - now abandoned - historical buildings. Megalo Livadi has a stunning beach, which is lined with tamarisk trees and has shallow waters, making it ideal for families with young children.