SERIFOS BEACHES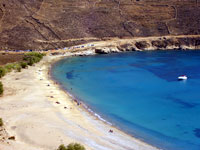 Some of the finest beaches in the Cyclades cluster are located on Serifos Island. Its coast offers over 70 long stretches of sand and small quaint coves that are sheltered from the Aegean Sea winds.

All Serifos Beaches are known for their crystal clear waters, while some have trees that provide shade for swimmers and sunbathers. On the southeastern side of the island, below Serifos Town (Chora), the capital of Serifos, are: the popular sandy and pebbly beach of Livadi, wonderful Avlomonas Beach and the long golden sandy beach of Livadakia. Further south are Karavi Beach, which has lovely azure waters and Kalo Ambeli Beach, where visitors are offered a peaceful and relaxing environment.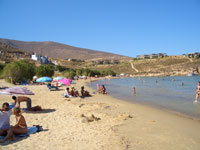 Traveling northwards from the eastern coast, you will come across several of the most beautiful Serifos beaches: the sandy beach of Lia, the charming bay of Agios Sostis - with pristine sands - located below the Chapel of Agios Sostis, the breathtaking beach of Psili Ammos with turquoise waters, considered by many to be the best beach on the island, and Agios Ioannis Beach.

The northern coast of Serifos offers the beaches of Kentarchos, with blue green waters and tamarisk trees, and the two small bays at Platis Gialos Beach. On the northwestern side of the island is the remote sandy and pebbly beach of Sykamia.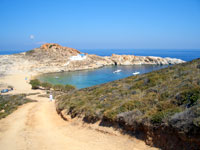 The southwestern coast has several wonderful Serifos Beaches, such as the long, sandy beach of Avessalos and the beach of Megalo Livadi, which has shallow waters and is lined with tamarisk trees. Malliadiko Beach is the ideal place for those who want to avoid crowds. The beaches of Koutalas, Ganema and Vagia are located in a bay area. Koutalas Beach is pebbly, has tamarisk trees and is located below Koutalas village. Ganema Beach is a relatively quiet, pebbly and sandy beach, lined with trees, while Vagia is a long beach with fresh-water springs in the ground.