GENERAL INFORMATION

The island of Serifos is a magnificent land, with wild natural landscape, small lush valleys and countless whitewashed houses nestled between steep rocky slopes and hills. Long sandy beaches and quaint coves, traditional Cycladic villages and splendid historical sites complete this island's irresistible charm.

Serifos Sightseeing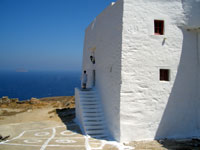 Start your tour of the island wandering through Serifos Town (Chora), considered by many to be one of the most beautiful Cycladic capitals. You should pay a visit to t he Venetian Castle ruins, the Churches of Christ, Agios Konstantinos and Agios Athanasios, the Archaeological and Folklore Museums and the renovated windmills.

Continue your tour to the island with a visit to the Agios Gerorgios Church in Livadi and the impressive early 17 th century Taxiarchon Monastery near Galani, which is built like a fortress and where you can see some of the finest ecclesiastical art in the Cyclades cluster. In Megalo Livadi, make a stop at the Psarros Tower. A visit to the abandoned village of Pyrgos, the Byzantine Church of Panagia in Panagia and the Agios Ioannis Church in Liomandras is a must. Lastly, Koutalas village offers visitors grand sightseeing of the Hellenistic White Tower, the Castle of Gria and the superb Koutalas Cave.

Serifos Nightlife
The majority of nightlife venues are located in Livadi village, next to the Port, along the beachfront and in the narrow alleyways. You will find a variety of cafeterias, bars, clubs and music halls that stay open till very late. Livadi also offer many restaurants, tavernas and ouzeries, where you can have a fine local meal. Other villages, such as Town (Chora), Megalo Livadi and Koutalas also provide a number of quaint fishing tavernas and cafes by the sea.

Local Festivals of Serifos

Serifos is full of small churches, each of which holds a festival on the nameday of its Patron Saints. The most popular festival is of Panagia on August 15. Today, almost all the inhabitants and visitors of the island participate in three days of traditional singing, dancing, eating and good fun. Other noteworthy Festivals are: Agios Pantelaemonas on July 27 in Town, Metamorfosi of Sotiros (the Transfiguration of Our Saviour) on August 6 in Kalo Ambeli, Virgin Mary in Ramos on August 14 and Agios Sostis on September 6 in Agios Sostis village.

Local Cuisine & Products of Serifos
Serifos Island is well-known for its quality almond sweets, bread, wine, honey and cheeses. During your stay on the island, don't miss out on the delicious local dishes, such as "revithada" (baked chickpeas), "marathotiganites" (fried fennel cakes) and "loutza" (sunbaked pork).

Serifos Sports & Activities
Swimming at Serifos Beaches is an absolute delight, since the waters are clean and relatively calm, You can participate in water sports, such as wind surfing, water skiing and paddle boating at Livadi Beach. If you own a yacht, you can explore some of the more secluded bays and beaches that cannot be accessed by car.