BEACHES
Arcadia Greece Beaches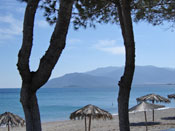 Arcadia (Arkadia) Greece includes some of the most wonderful beaches in Peloponnese that allow visitors to enjoy the crystal clear waters of secluded beaches and the tranquility of the beautiful seaside areas.

If you are staying at Paralio Astros, there is a number of options among which you will choose the perfect one for you. Apart from the much frequented beach of the settlement, you can have a swim at Atsigganos beach, at the small charming coves towards Ksiropigado and at Agios Andreas Beach.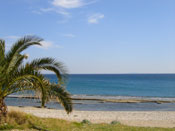 Leonidio is another area that includes lovely beaches, such as Lakos and Plaka and we suggest that you also visit the cove of Agios Georgios and swim at the beach of Poulithra. If you feel like travelling a bit further, take a dive at the beach of Fokianos Cove, where you will find yourself in a picturesque setting of unparalleled natural beauty.

Finally, the scenic seaside settlement Paralia Tyros possesses a beautiful beach but the neighbouring fisher's villages Livadi and Sabatiki have wonderful clean waters, too. You may also swim at Tserfo, Zaritsi, Tigani, Ligeria and Kissakas. Many of the Arcadia beaches in Peloponnese, Greece are pebbled and swimming in their crystal blue water is considered by many a unique opportunity should not be missed.