NAFPLIO
Nafplion: a historical town with cosmopolitan atmosphere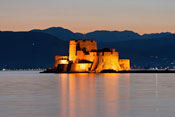 When visiting Greece, a trip to Nafplio City Argolida is a must, as it displays a variety of archaeological sites, elements of traditional architecture, beautiful beaches and both an exciting and romantic atmosphere that satisfies all tastes. Among the plethora of Nafplion hotels it is certain that everyone will find what they are looking for, from family pensions and rooms to let to spacious apartments and luxury hotels.

In Nafplio City Argolida Greece there are plenty of things to do, so on this webpage we provide you with useful travel information that will help you plan your schedule when you find yourself in the first historical capital of Greece.

The city of Nafplio (Nafplion) is filled with castles and fortresses that really worth a visit. You can take a tour at Palamidi, the renowned trademark castle built on a hill from where you can admire the whole city. In this castle, which is quite well preserved and displays elements of Venetian architecture, you can visit the cell where the Greek Independence War hero Kolokotronis was imprisoned during the Revolution period. You can take the challenge and reach it by going up the 999 steps or just go by car.

The fortress in Akronafplia is also an interesting sight, but the famed Bourtzi fortress, which can be seen as you approach the Nafplion Port, upstages almost every other castle. You can pay a visit at Bourtzi on one of the caiques you will find at the port and from the fortress you can admire the wonderful view of the seaside part of Nafplio (Nafplion).

The charming Old Town with the traditionally built residences is perfect for a stroll where you can admire elements that have been left from past occupancies, creating a mosaic of various architectures and styles. In Nafplio City you will find museums with interesting exhibits, such as the Archaeological Museum, the Komboloi (worry beads) Museum, the War Museum, the Folk Museum and the Children's Museum.

In summertime, you can go sightseeing late afternoon and enjoy a swim in the morning in one of the beautiful beaches lying at a small distance from Nafplio (Nafplion). Arvanitia Beach with the turquoise waters is the closest, about 2 km from the city centre, while Karathona beach -awarded with the Blue Flag- is about 5 km far from the city.

When the night falls, tourists can go around the cobblestone streets and dine in one of the traditional tavernas or restaurants offering unique mouthwatering Greek dishes and then relish a night out in one of the plenty bars or clubs, where people dance the night away.

Whatever you opt to do in Nafplio City Argolida, Greece, it is sure that you will have a unique experience and an unforgettable stay.