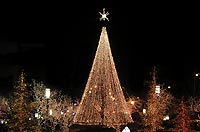 Can you think of a better place to spend your Christmas holidays than in the multifaceted city of Athens? Mabye you didn't know it, but Athens is a holiday destination for all seasons. Its vibrant character truly comes alive at Christmas time, when the whole city is decorated in bright lights and carols can be heard throughout the streets. Perhaps you ought to consider an Athens Greece Christmas vacation after all.
Christmas shopping in Athens is in itself a festive event! The commercial streets of Athens are packed with happy people that browse through the shops, buying cheerfully-wrapped presents for friends and family. Street performers of all kinds are located along the streets, spreading joy to the young and old alike, and making Xmas shopping in Athens a unique experience!
The Christmas fun in Athens Greece really livens up at Synagma Square, the central square of the city. Every year, a Christmas village is built there, complete with elves, fairy-tale cottages, and Christmas ornaments. Children are the honored guests in the village, and are entertained by clowns and other performers. Small Christmas trinkets and candies can be bought at the cottage-like shops.
The major event at Christmas in Athens Greece is the lighting ceremony of the Athens Christmas tree, which is considered the highest tree in all Europe. It is decorated with thousands of lights and can be seen from very far away. On New Year's Eve, a big concert takes place at Syntagma Square, as well as other smaller concerts throughout Athens.
Despite being such a modern European city, Christmas traditions in Athens Greece are alive and well. Carol singing on Christmas Eve, New Year's Eve and January 5, the Eve of the Epiphany, remain the favorite Christmas custom of small children, who go door to door caroling with a triangle and are awarded with a Euro or two.
Christmas dinners of roast pork or turkey are served in every household, and bakers sell tons of Christmas cookies - called kourabiedes and melomacarona -, Vasilopitas, the traditional New Year's Cakes, and Christopsoma, the Christmas bread loaves. If you feel like dining out while on holiday, you will find many restaurants that served traditional Christmas food in Athens Greece.
Do you want a taste of white Christmas in Athens Greece? If so, you can take a short drive up to Mt. Parnitha and its casino, or go on an excursion to nearby Arachova and its winter sports center. Quite often, during Christmas in Athens, snow falls in the northern suburbs of the city, creating a magical, snowblanketed winterland next to Athens center.
Get your camera ready and prepare to take countless Christmas picture in Athens Greece, to record the most wonderful Christmas holiday of your life!