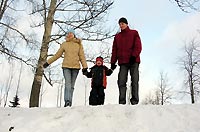 Have you been dreaming of visiting Greece, spending your days touring the sites and the traditional Greek villages and the nights dining at the tavernas, and having fun at stimulating bars and clubs? Well, here's your chance to spend a wonderful Christmas holiday in Greece.
Christmas is the best time to visit Greece in winter. In Athens, the streets are full of people, who are in a particularly cheerful mood due to the festive atmosphere. Shopping is at its peak, as shop windows are brightly decorated and purses are full! Sightseeing in Athens is enjoyable at this time of year, especially when the weather is sunny and crisp!
Once your shopping is done, you can take a trip to the winter sports centers and have the time of your life skiing, snowboarding and enjoying hot chocolate at the chalet. The traditional mountain villages of Greece are the epitome of quaintness, with stone-brick houses and evergreen trees. If you want a picturesque holiday at Christmas in Greece, the villages are your best bet!
Your Christmas holiday in Greece will be a most memorable experience! And how could it not be, when you have visited such a unique country. Even if you must travel a long distance to spend Christmas holidays in Greece, you will never regret it! So, get in touch with your travel agent and make your plans for the best Christmas vacation of your life!