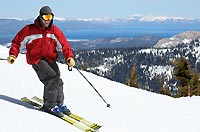 Come to Greece this holiday season and spend a unique and memorable Christmas time. Greece is not only a superb summer vacation spot, but also an excellent Christmas holiday destination, which offers visitors an unprecedented lively and upbeat atmosphere that is fitting for this joyous time of the year.
In Greece you have the opportunity to experience the best of both the religious and the secular Christmas celebrations. Do you want to go Christmas shopping and have fun at Christmas events and parties, or do you prefer a quiet, pious celebration, attending Christmas mass and taking part in traditional Christmas customs. You can experience both if you decide to take advantage of the Christmas vacation packages to Greece.
You can plan you Christmas vacation in Greece in advance by looking at the packages offered by travel agencies in Greece. Many provide all inclusive Christmas vacation packages to Greece, which give you the opportunity to tour the sites, take in a number of Christmas events, spend time at winter sports resorts and visit traditional villages. Hotel accommodation and airplane tickets are included, while in some cases you may be supplied with car rental and additional excursions.
See the country as you have never seen it before with a Christmas vacation package in Greece. Get acquainted with its other side, that isn't photographed and put on postcards. You will be amazed at the beauty you will discover during a Christmas travel vacation in Greece. You can visit Athens, the vibrant metropolis, where Christmas is at its peak, as well as the Greek villages, where Christmas traditions and customs are still practiced.