GENERAL INFORMATION
about Chios island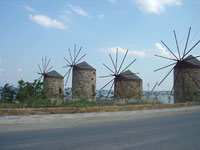 As you shall be entering the port of Chios it is indisputable that the scent of the mastic that flows in the air shall definitely intoxicate you, while at the same time, the
traditional and picturesque capital
and port of the island, which still maintains its authentic nobility as it is full of old mansions, shall be welcoming you to the island of Chios.
Wandering around the town you will come across the castle, the metropolis, the church of Agios Issidoros, the cultural center Omirio, the library of Korais, the picture gallery, the municipal park, the mills and the archaeological museum, which are the main sightseeing of the town of Chios.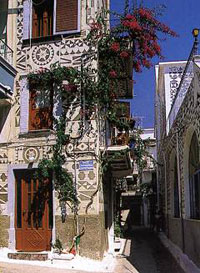 Touring around the island of Chios, apart from the homonymous capital town, you will also come across numerous sites of impressive natural beauty as well as other interesting sightseeing. Magnificent beaches, revitalizing piney forests, medieval villages, noble mansions and archaeological findings compose the multifarious profile of the gifted island of Chios. Furthermore, the hospitable and friendly inhabitants with the insular mentality shall make you feel at home.
During your stay at Chios it is indispensable for you to visit Anavatos, which is a region of non-identical beauty, full of history, art and legends. Pyrgi is another traditional settlement that is famous for the unique sculptures that embellish the fronts of the houses as well as the peculiar rooftops. Agiasmata is another region that you have to visit as it pulses with spa. Mesta, the medieval village, is a wonderfully maintained settlement and is still regarded as a model of defensive architecture. Karyes, a village with lush verdure and running waters, is built amphitheatrically on a hill offering beautiful view to the capital. Kardamyla, Nenita, Kalamoti, Thymiana, Karfas, Volissos, Vrondados, Agio Gala and Sidirounda are also worth visiting.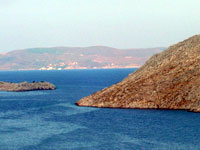 You can travel to the island of Chios, which is considered to be an ideal resort for your vacations, either by boat from Piraeus or by airplane from Athens. From the island of Chios you will also be able to visit the islands of Lesvos and the town of Thessaloniki by plane, while by boat you can visit, apart from Lesvos and Thessaloniki, Limnos, Samos, Inousses, Psara, Syros, Kos, Rhodes, Kavala, Alexandroupoli and Volos.