ARCHAEOLOGICAL AND HISTORICAL MONUMENTS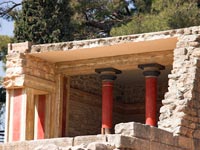 The prefecture of Heraklion is well-known for the archaeological sites of Knossos and Phaestos.
The ancient town of Knossos, 5 km from the capital, was the center of the Minoan civilization and includes the greatest Minoan palace of the period 2000 - 1400 BC.
The ancient remains cover an area of 20,000 sq.m. and consist of the ancient town with the palace, the small palace, the bi-level royal mansion and the royal tomb.
The palace was a huge complex of many chambers and corridors, with complicated design and structure, which was partially destroyed in 1700, rebuilt and then finally burned down in 1400 BC. The site also includes the «Stromatografiko» Museum (of stratigraphy), exhibiting a collection from Knossos findings.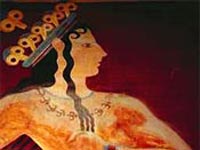 In the ancient town of Phaestos, 60 km southwest of Heraklion, there is a similar palace, to the one of Knossos, only less complicated and presenting an easier tour for the visitor. The complex was built on a steep hill and it spreads at 8,400 sq.m. It was the religious and economic center in the Minoan Years. It includes the Minoan palace, the tomb and 3 km farther, in Agia Triada, the remains of a royal mansion and the Sarcophagus.
The prefecture of Heraklion has many more archaeological sites, remains from the Minoan or post Minoan Periods, such as the ancient towns of Malia, Gortys and Tylissos.
Other monuments presenting an historic importance are many venetian buildings in the capital, such as the Koules Fortress, Lodgia, the Morosini, Bebo and Priouli Fountains and the venetian walls that surround the town.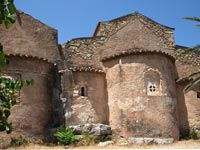 You can also visit many monasteries from the Byzantine Years, tokens of a superb architecture: Agios Georgios Gorgolainis in Asites, Kimissis Theotokou Palianis in Venerato, Brontissiou, Kardiotissas and Apanossifis in Agia Varvara.
From the same period there are also many Christian churches, the Byzantine churches of the Ten Martyrs and Archangel Michael and the churches of Agia Triada, Agia Paraskevi and Asomatou in Epano Arhanes. If you love painting, don't forget to visit the house where El Greco was born, in Fodele.
Finally, the town of Heraklion has many museums including the Archaeological, Historical and Ecclesiastic with various pieces from Cretan tradition and the Minoan remains.