Travel Information about Aegina Island Greece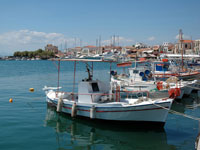 Neoclassical houses painted in dramatic colors, blue-domed churches, traditional cafés, stone- paved alleyways, picturesque horse carriages, and colourful fishing boats, are the characteristics of Aegina Greece.
Upon you arrival on Aegina Island, you are greeted by the whitewashed Church of Agios Nikolaos. Once you have settled in your hotel, we recommend embarking on your sightseeing tour by first taking a stroll through Aegina Town, to "soak up" the unique atmosphere. You can visit the Cathedral of Agios Dionysios, the O rphanage, the Government Manor, and then continue to the wonderful Sanctuary of Hellanios Zeus and the Ancient Site of Kolona. The capital town of Aegina is also host to the Archaeological and Folklore Museums of the island, which display artefacts of life in Aegina dating from antiquity to present day.
We highly suggest visiting the other villages in Aegina Greece, to admire their attractive island-style charm and superb historical sites. Locals are very hospitable in Aegina, greeting visitors as if they were the closest of friends, and adding to the quaintness of the island. You can ask anyone your meet while touring for information about Aegina Island.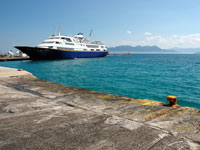 Agia Marina is a seaside village, full of pine trees, which attracts many visitors due to its fabulous beach, considered by many to be the finest of all Aegina beaches, and the Ancient Site of Aphaia. Paleochora is an abandoned town that used to be the capital of the island. It has 28 churches that are famous for their stone-built icon screens and murals, the ruins of a Medieval Castle, and two monasteries: Agios Nektarios and Panagia Chrysoleontissa,
Perdika and Vagia are two picturesque fishing villages that have recently developed into popular seaside resorts. Vagia Beach, as well as the Aegina beaches of Marathonas and Aeginitissa, near Perdika, are ideal for endless hours of swimming and sunbathing. Mesargos is a traditional inland, well-known for its ceramics. Souvala is celebrated for its hot springs, which attract thousands of visitors every year.
HOW TO TRAVEL TO AEGINA GREECE
You can travel to Aegina Greece by ferry boat, flying dolphin, from Piraeus Port in Athens. Ferries to Aegina take less than a couple of hours, and the trip is very pleasant. Flying dolphins take approximately 35 minutes. From Aegina you can also travel to other Saronic Islands, the islet Moni, Nafplion, Tolo, Porto Heli, Ermioni, Leonidio, Kyparissi, and Monemvassia in the Peloponnese Greece.
Dedicate a few days from your vacation plan and visit Aegina Greece, located just 35 minutes by flying dolphin from Athens. It is a fantastic vacation spot, with plethora of organized tourist facilities, including high-quality Aegina hotel accommodation at budget rates.