GENERAL INFORMATION
about Skopelos island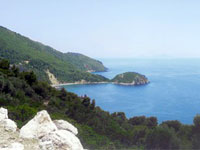 The island of Skopelos pulses with
refreshing verdure
, infinite sandy beaches, piney revitalizing sites and azure waters, while various amazing settlements integrate the already beautiful icon. Moreover, important archaeological monuments and impressive human creations integrated the
unparalleled allurement of the island of Skopelos.
As soon as you shall set your eyes on the homonymous capital and port of this magnificent island,
the traditional beauty of this scheduled town
and the numerous interesting sightseeing shall captivate you.
The picturesque old houses, the stone paved uphill alleys, the
flowered balconies
and door steps as well as the Asklipiio at the region Ambeliki, the ruins of the medieval fortress, the numerous churches and the various monasteries, the house of the author Pavlos Nirvanas, the carved graves at the region Sendoukia, the cultural museum and the superb cave of Trypiti, are
truly amazing
.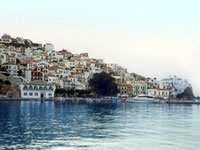 This non-identical beauty is outspread all over the island of Skopelos
, which throbs with various wonderful settlements that are ideal sites to visit during your holidays. Agnondas, the third beautiful port of the island, Stafylos, the scenic region that ends up at a piney peninsula with two bays, Panormos, a popular
sandy bay surrounded by verdant hills
, Glossa, the settlement that combines mountain and sea, built on a fertile slope, Klima, a verdurous village built amphitheatrically offering amazing view and Loutraki, the second port of the island that is closed by the islets Glaronissi, Strogylo, Paximada and Dassia, are few of the
incredible sites that you definitely have to visit
.
You can travel to the island of Skopelos from Agios Konstantinos and Volos by boat. During your stay at the island of Skopelos seize the chance to visit Skiathos, Skyros and Alonissos, which are the other islands of the exquisite
Sporades Islands
cluster as well as Thessalia, Evia and Thessaloniki.